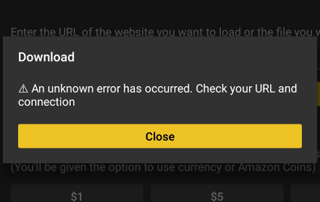 This post will show you how to fix "An unknown error has occurred.  Check your URL and connection" within Downloader.
Downloader is the most popular application that allows side-loading APKs onto the Amazon Fire TV or Firestick.  This free application is used most notably when installing Kodi, Terrarium TV, and SET TV on the Fire TV or Fire TV Stick.
You may encounter the above error on the Fire TV 3 when attempting to download or install applications that aren't available within the Amazon App store.  The reason for this error is because permissions aren't granted for file access upon first installing the Downloader application.
If you don't allow for Downloader to access files on your Fire TV, there is now way for the application to download and install applications.
If you are receiving this error, refer to the following screenshot guide for a quick fix.
An unknown error has occurred Check your URL and connection Fix
Step 1 – Hover over Settings menu item on Fire TV
Step 2 – Click Applications
Step 3 – Click Manage Installed Applications
Step 4 – Click Downloader
Step 5 – Click Clear data
Step 6 – Click Clear data again
Step 7 – Click back button on remote and return to previous menu
Step 8 – Click Downloader
Step 9 – Click Launch application
Step 10 – Click Allow for Downloader to access photos, media and files on your device
Downloader will now work as intended and you will no longer receive error message
If you have problems with the above steps, another solution is to uninstall Downloader and then reinstall.  You can uninstall the application by going to Fire TV Settings / Applications / Manage Applications / Downloader / Uninstall.
The post An Unknown Error Has Occurred – Check Your URL & Connection Fix appeared first on Do It Yourself Tech Projects for Home & Small Business.
Powered by WPeMatico
Watch Every PPV, NFL, NBA, MLB and More